Testimonials
What they say about us
Francesco Flammini's lecture
Campus Bio-Medico of Rome
27th July, 2022

The concept of risk is a combination of threat probabilities, vulnerabilities and expected consequences. In traditional risk modeling and evaluation approaches, analyses are performed at design time and possibly repeated periodically, or at any relevant system change. With such approaches, there is no possibility to evaluate how the risk evolves over time as a condition of actual system state and detected threats. One challenging objective in the field of connected cyber-physical systems (CPS) and the Internet of Things (IoT) is to improve resilience by providing non-trivial mechanisms for run-time threat detection, risk estimation and system reconfiguration following Self-X principles like self-diagnostics and self-healing. Threats include faults, errors and failures, and can be either intentional (e.g. security attacks) or unintentional (e.g. random faults).
A central issue is to develop model-based approaches allowing for run-time risk evaluation accounting for uncertainties in system itself and in the surrounding environment. Those models should be such to account for growing complexity (size, distribution, heterogeneity) and criticality of modern cyber-physical systems. Multi-paradigm modeling can combine probabilistic modelling languages borrowed from Artificial Intelligence (e.g. Bayesian Networks) with formalisms like high-level Petri Nets, in order to find the optimal balance and trade-off between ease of use, expressive power and solving efficiency.
Models used in static risk assessment at design time can be reused and integrated in appropriate frameworks to allow online monitoring of relevant system parameters, threat detection and dynamic adaptation to respond to threats. In critical applications, the reuse of suitable models already employed for system certification together with run-time model-checking supports explainable Artificial Intelligence (XAI) that is requested to build trustworthy autonomous CPS like self-driving vehicles. The next generation of run-time risk models will act as Digital Twins to anticipate threats and enable novel paradigms like proactive dependability and collaborative security as a support to prognostics and preventive maintenance in Industry 4.0 and other smart-X applications (e.g., smart-houses, smart-cities, smart-transportation, etc.).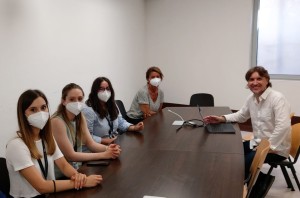 Francesco Flammini
Prof. Roberto Setola guest on
Rome, 1-2 March 2022

Cybersecurity has by now become a strategic area for all the Countries, ranging from Defence & Security to industrial policy, technological development and geopolitical implications.
CyberSec2022 is an event promoted by Cybersecurity Italia, the online newspaper created to be the meeting point between companies and experts interested in the consistent growth of the country's security system, its public administrations and its businesses, with the aim of interacting with institutions, decision-makers politicians, regulatory authorities, professionals, university and research world.
Here a part of the interview: https://bit.ly/3tIRJo5
The digital transformation is profoundly changing the way we live. This is why it is necessary to make a serious effort to implement national cybersecurity strategies to detect, prevent and deter cyber attacks, responding in a coordinated manner with the various institutions involved.
The Cybersecurity National Lab intends to contribute to the creation of the national cybersecurity ecosystem, putting in place the excellence of cybersecurity research in Italy and offering public and institutional decision-makers their contribution to secure the Italian cyberspace and increasing the competitiveness of the country.
Interview on Rainews24
On Friday 13 November Rainews24 broadcasted a special dedicated on the investigation "Data Thief in Healthcare" by Federico Marconi and Giorgio Saracino.
The investigation deals with cyber-attacks in the pharmaceutical and healthcare world and also concerns theft of documents not only by state-backed hackers. The news video winners of the ninth edition of the Roberto Morrione Award for investigative journalism.
In the following the interview with Professor Roberto Setola
Interview Setola Data Thief in Healthcare
Federico Marconi and Giorgio Saracino
Roberto Setola and Luca Faramondi guests on
BFC Forbes – Forbes GREEN Carpet
Enzo Argante (Forbes)
New article on Automazione Plus
I dati sono la nuova moneta, le memorie sono il nuovo oro
Automazione Plus
New Article on Research Italy ResearchItaly (English version) or ResearchItaly (Italian version)
Drones in rescue operations everywhere
Bringing help to inaccessible locations by using drones is the aim of the "Drones for Healthcare" project carried out by Consorzio Elis , which promotes innovation by supporting young entrepreneurs.
Research Italy